A Novena Prayer to Our Lady of Mount Carmel
A creatively courageous father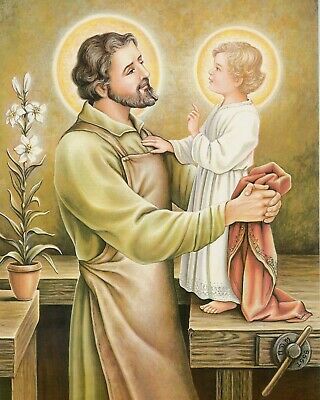 If the first stage of all true interior healing is to accept our personal history and embrace even the things in life that we did not choose, we must now add another important element: creative courage. This emerges especially in the way we deal with difficulties. In the face of difficulty, we can either give up and walk away, or somehow engage with it. At times, difficulties bring out resources we did not even think we had.
As we read the infancy narratives, we may often wonder why God did not act in a more direct and clear way. Yet God acts through events and people. Joseph was the man chosen by God to guide the beginnings of the history of redemption. He was the true "miracle" by which God saves the child and his mother. God acted by trusting in Joseph's creative courage. Arriving in Bethlehem and finding no lodging where Mary could give birth, Joseph took a stable and, as best he could, turned it into a welcoming home for the Son of God come into the world (cf. Lk 2:6-7). Faced with imminent danger from Herod, who wanted to kill the child, Joseph was warned once again in a dream to protect the child, and rose in the middle of the night to prepare the flight into Egypt (cf. Mt 2:13-14).
A superficial reading of these stories can often give the impression that the world is at the mercy of the strong and mighty, but the "good news" of the Gospel consists in showing that, for all the arrogance and violence of worldly powers, God always finds a way to carry out his saving plan. So too, our lives may at times seem to be at the mercy of the powerful, but the Gospel shows us what counts. God always finds a way to save us, provided we show the same creative courage as the carpenter of Nazareth, who was able to turn a problem into a possibility by trusting always in divine providence.
---
Our Lady of Mount Carmel (16th July 2021)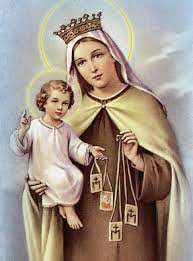 Carmelites originated and took their name from mountain Carmel in Israel. The great prophet Elijah defended the true faith from Mount Carmel and it was there that he slayed the false prophets of Baal. It was understood to be a holy place, a place of pilgrimage, and in the 12th century pilgrims came again and stayed as faithful followers of Elijah. They built a chapel there dedicated to Mary the Mother of God and soon afterwards they called themselves 'Brothers of Mary of Mount Carmel'.
It was a fitting place to form such a community. Mountains are the places where God speaks, where people become aware of God, where people get to know God.
Moses climbed Mount Sinai in order to encounter God and learn what God required of people who wished to be faithful. Abraham committed himself unreservedly to God on the mountain before God promised to make him our father in Faith. Jesus himself went up on a mountain when he wanted to teach his disciples the important principles of Christian living. He took his close disciples up the mountain so that he could be revealed to them as the beloved Son of the Father. And, of course it was on the mountain of Calvary that Jesus died for our salvation.
---
Saint Teresa of the Andes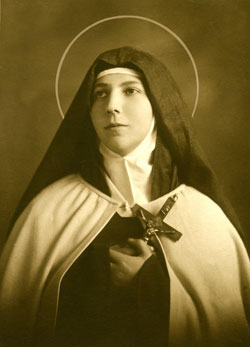 Speaking of the virtue of humility, the great Saint Bernard of Clairvaux, said that the practice of humility entailed not being ignorant of your own Greatness. Mary the Mother of God, in her song of praise, praises God for how great God had made her; "My soul magnifies the Lord … all generations will call me blessed … He who is mighty has done great things for me and holy is His name."
I think that these words of the Magnificat must have been engrained in the soul of Saint Teresa of Jesus of the Andes. From her earliest years she had a wonderful sense of how God had created her, called her and made her holy.
Juanita Fernandez was born on 13th July 1900 in Santiago, Chile into a family of three boys and two girls. She grew up surrounded by her extended family and attended the local College which was run by the Sisters of the Sacred Heart. She later went to boarding school where she excelled although she was not particularly fond of school.
Her family was like any other family with their differences and failures. But Juanita lived a full and active life. She loved horse-riding and was a champion swimmer. Her family was a truly Christian family, practising their Faith and caring for those around them. Juanita even helped with teaching younger children catechism. A very ordinary life for a young girl! And that is precisely true.
---
The Year of Saint Joseph (July Edition)
An accepting father
Joseph accepted Mary unconditionally. He trusted in the angel's words. "The nobility of Joseph's heart is such that what he learned from the law he made dependent on charity. Today, in our world where psychological, verbal and physical violence towards women is so evident, Joseph appears as the figure of a respectful and sensitive man. Even though he does not understand the bigger picture, he makes a decision to protect Mary's good name, her dignity and her life. In his hesitation about how best to act, God helped him by enlightening his judgment".
Often in life, things happen whose meaning we do not understand. Our first reaction is frequently one of disappointment and rebellion. Joseph set aside his own ideas in order to accept the course of events and, mysterious as they seemed, to embrace them, take responsibility for them and make them part of his own history. Unless we are reconciled with our own history, we will be unable to take a single step forward, for we will always remain hostage to our expectations and the disappointments that follow.
The spiritual path that Joseph traces for us is not one that explains, but accepts. Only as a result of this acceptance, this reconciliation, can we begin to glimpse a broader history, a deeper meaning. We can almost hear an echo of the impassioned reply of Job to his wife, who had urged him to rebel against the evil he endured: "Shall we receive the good at the hand of God, and not receive the bad?" (Job 2:10).
Welcome to the Carmelite Monastery of the Immaculate Conception
Roebuck, Dublin 14 D14 T1H9
We are a community of Carmelite Sisters called by God, to live a life of prayer for the Church and for the world.
Our Rule tells us to 'meditate day and night on the law of the Lord'. In other words to ponder the scriptures as we go about our daily tasks.

The heart of our day is the celebration of the Eucharist and we say the full Divine Office. We also spend two hours in personal prayer each day, one in the morning and one in the evening.

We hope that you enjoy your visit to our website and that you find reason to return soon.