Advent 2023
ADVENT
We have tested and tasted too much, lover –
Through a chink too wide there comes in no wonder.
But here in the Advent-darkened room
Where the dry bread and the sugarless tea
Of penance will charm back the luxury
Of a child's soul, we'll return to Doom
The knowledge we stole but could not use.

And the newness that was in every stale thing
When we looked at it as children: the spirit-shocking
Wonder in a black slanting Ulster hill
Or the prophetic astonishment in the tedious talking
Of an old fool will awake for us and bring
You and me to the yard gate to watch the whins
And the bog-holes, cart-tracks, old stables where Time begins.

O after Christmas we'll have no need to go searching
For the difference that sets an old phrase burning -
We'll hear it in the whispered argument of a churning
Or in the streets where the village boys are lurching.
And we'll hear it among decent men too
Who barrow dung in gardens under trees,
Wherever life pours ordinary plenty.
Won't we be rich, my love and I, and please
God we shall not ask for reason's payment,
The why of heart-breaking strangeness in dreeping hedges
Nor analyse God's breath in common statement.
We have thrown into the dust-bin the clay-minted wages
Of pleasure, knowledge and conscious hour -
And Christ comes with a January flower.
Patrick Kavanagh
---
St Teresa of Avila
1515 - 1582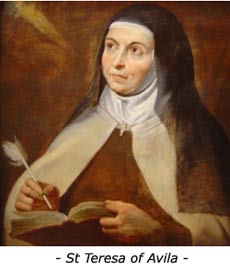 The Carmelite Monastery of the Incarnation, Avila, was home to some 150 nuns when it opened its door to receive the twenty year-old Teresa. Happiness became her lot despite sickness and an inner struggle lasting twenty years. Loving and lovable by nature, Teresa's capacity for friendship received a new impetus when she realisd twenty years later that Christ himself was her true friend. This relationship was the foundation of her prayer. Friendship demands intimacy – a small group of praying women, devoted to Christ and his mother Mary, living simply as sisters and in friendship; a modest secluded property but hearts open to the concerns of Christ – this was the vision of Teresa and her friends. St Joseph's, Avila is that reality still today and in over 800 other locations worldwide.
Teresa died in Alba de Tormes in 1582. Canonized in 1622, she became in 1970, together with Catherine of Siena, one of the first two women Doctors of the Church in recognition of the wisdom of her life and her teachings. Her autobiography and letters are widely available. The Way of Perfection and the Interior Castle contain much on prayer.
---
St Thérése International Day at Knock 2024
Sunday, July 14th & Monday, July 15th 2024.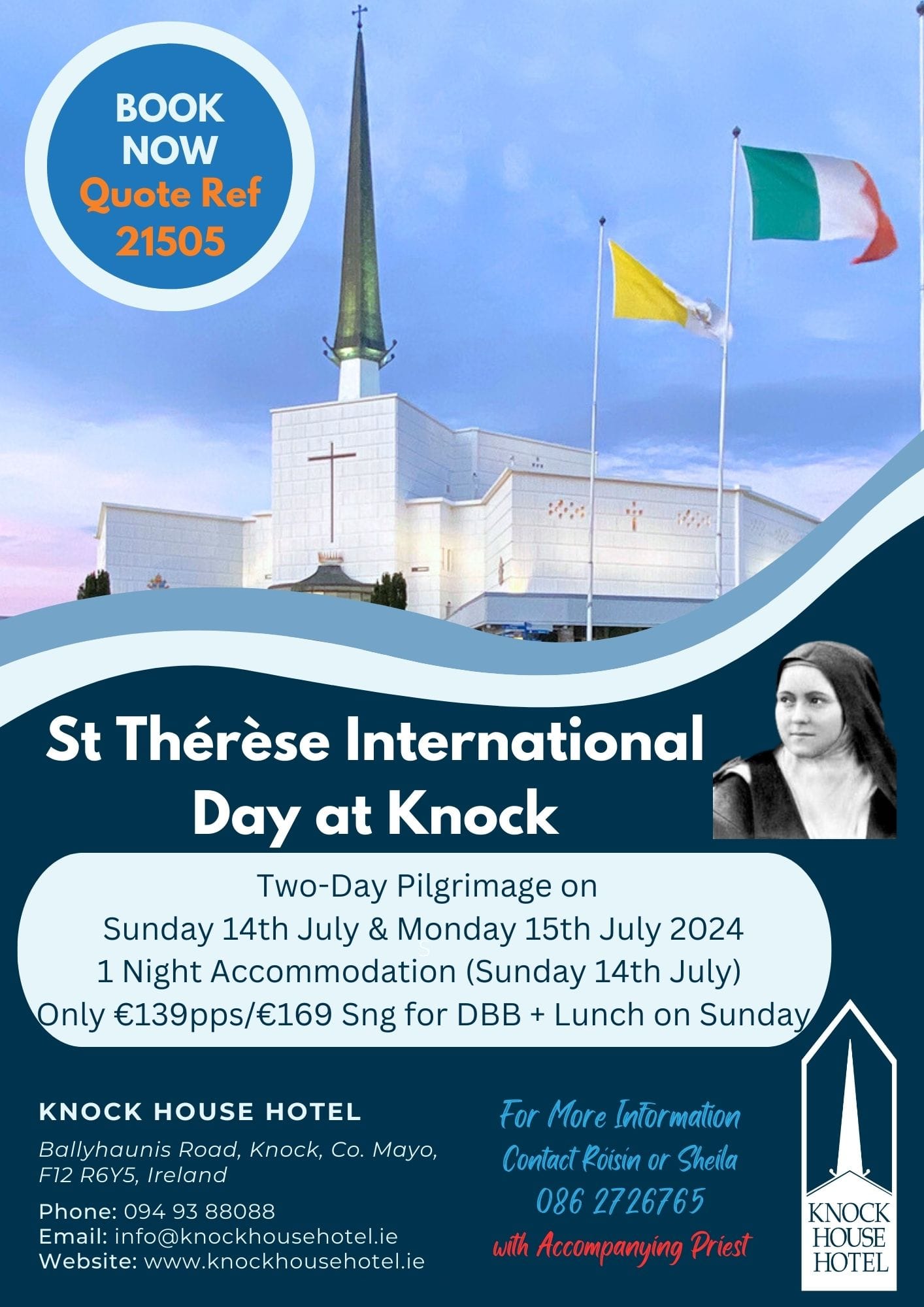 ---
Our Lady of Mount Carmel
Feast Day 16th July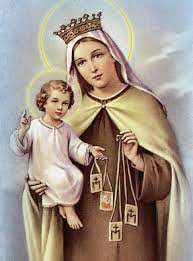 When Jesus wanted to teach his disciples he often took up the position of many religious teachers of Israel, that is, He went up to a high place. Jesus sat down when he wanted to teach like all the wise people of his time, a practice that is part of the ceremony of doctrinal teaching even to this day. One of the real milestones of the ministry of Jesus was when "He went up the mountain …. sat down …. And began to teach them …." He taught them the Beatitudes, the charter of living for disciples; "Blessed are the poor … Blessed are the pure in heart … Blessed are you when you suffer for my sake …." (Matt 5:1-12)
Mountains are pivotal in the ministry of Jesus - from the mountain on which the devil offers him power over the entire world to the mountain where he hands over power to his disciples, the power he has received from the Father. Jesus was drawn to mountains; places where our faith was founded; where our law was received; where prophets had lived and sacrifices were offered. There are about 500 mentions of mountains in the Sacred Scriptures and there are 7 significant mountains.
Today we turn to Mount Carmel, the Holy Mountain in Egypt regarded as a 'high place' where idols were worshipped: the scene of Elijah's confrontation with the 400 false prophets of Baal. This is the mountain to which Berthold (mid 13thcentury) led his followers to live in caves in imitation of Elijah: where mysteriously they dedicated their chapel to Mary, the Mother of God. This is where the Holy Order of Carmelites found its origin and its name.
Throughout the Gospels, mountains play a big part in the life and ministry of Jesus. Mountains represent lofty events, the highest ideals and the Presence of the Transcendent God. The Lord chose to reveal himself as God to the three closest disciples on Mount Tabor; the Lord went in distress to the Mount of Gethsemane; the Lord died on Mount Calvary; the Lord ascended to the Father from the Mount of Olives.
Mountains are places of Solitude and Prayer, of Contemplation and encounters with God. By climbing them, we are reminded of our struggle; by their remoteness they provide us with solitude and, yes, by their sheer height they seem to bring us closer to God! Whatever happens on a mountain stands out! A chapel on a mountain dedicated to Mary speaks to hearts freed from the distractions of the world.
Though Mount Calvary can conjure up less happy sentiments, it was on this mountain that Mary was given to us, as our mother. She had climbed many mountains in her life's journey and courageously and generously travelled into the Hill Country as carer and proclaimer of the Good News.
On the Mountain of Calvary she stretches out her arms to embrace us, her new children. But it is to Mount Carmel that we turn today to honour her. Let us dwell a while on this Holy Mountain to be with her. Let us consider her sufferings and join our much lesser sufferings to hers. Let us be open to the affection and protection that she gives to us. Let us marvel once more that the Lord has told us truly "This is your Mother". With her we praise the Lord from the height of Mount Carmel saying indeed "Holy is His name".
---
Saint Teresa of the Andes
Feast day 13th July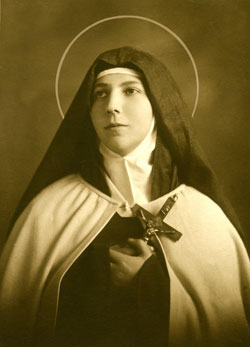 Speaking of the virtue of humility, the great Saint Bernard of Clairvaux, said that the practice of humility entailed not being ignorant of your own Greatness. Mary the Mother of God, in her song of praise, praises God for how great God had made her; "My soul magnifies the Lord … all generations will call me blessed … He who is mighty has done great things for me and holy is His name."
I think that these words of the Magnificat must have been engrained in the soul of Saint Teresa of Jesus of the Andes. From her earliest years she had a wonderful sense of how God had created her, called her and made her holy.
Juanita Fernandez was born on 13th July 1900 in Santiago, Chile into a family of three boys and two girls. She grew up surrounded by her extended family and attended the local College which was run by the Sisters of the Sacred Heart. She later went to boarding school where she excelled although she was not particularly fond of school.
Her family was like any other family with their differences and failures. But Juanita lived a full and active life. She loved horse-riding and was a champion swimmer. Her family was a truly Christian family, practising their Faith and caring for those around them. Juanita even helped with teaching younger children catechism. A very ordinary life for a young girl! And that is precisely true.
From a very early age Juanita was conscious of a special connection with the Lord. At the time of her First Holy Communion she was able to discern the Lord speaking to her. From this time on she 'fell in love with Jesus' and at fourteen years of age she gave herself completely to Him. Soon after, she felt the desire to enter the Carmel in Los Andes as soon as she would be accepted there. The Mother Prioress wrote to her telling her that she had been born a Carmelite.
Juanita's knowledge and understanding of Carmelite life came solely from her reading of the lives of Saint Teresa of Jesus of Avila, Saint Therese and Saint Elizabeth of the Trinity. She could see in the lives of these Saints that Carmel was a place where she would be in the presence of God, 'a little bit of heaven'.
But this life would entail suffering and separation. Juanita believed that whatever suffering there would be would be borne by the Lord on the altar waiting for her love. She began to seek silence and solitude so the Lord would be able to speak to her heart. She was receptive to every sign of the Lord's presence and every sound of the Word of God. This is what drew her to sanctity – being conscious of the Lord's presence and alert to the Lord's word.
Her understanding of the Carmelite vocation was that it was one of suffering, of loving and of praying. She found that this was her whole ideal and she embraced it with Joy. Joy pervaded every part of her life from then on.
She became Sister Teresa of Jesus when she entered the noviciate of the Carmel of the Andes. Her Carmelite life was to be short. She died three months short of her twentieth birthday. The reaction to her death among the Carmelites, the media and the public was extraordinary. What caused such amazement? The ordinariness perhaps! This ordinary young woman was what God wanted her to be. This ordinary young woman was alert to the promptings of God in her life. This ordinary young woman was generous, was loving and was joy-filled. This ordinary young woman understood how great she was in the eyes of God and she sang of the Lord's greatness with her very life.
Saint Teresa of the Andes has been declared a patron of youth. Other patrons of youth come to mind; Saint Maria Goretti, put before youth for her purity of heart: Saint Dominic Savio for his outstanding example to peers: Blessed Carlo Acutis (1991-2006) for his promotion of and devotion to the Blessed Eucharist.
Saint Teresa of the Andes is put before youth today for her joyful love of God and the illustration by her life of how wonderful is God's creation of His children and how even the lowly are Great in God's eyes.
---
Easter Sunday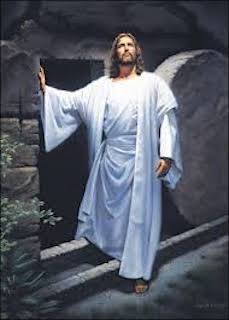 ---
Good Friday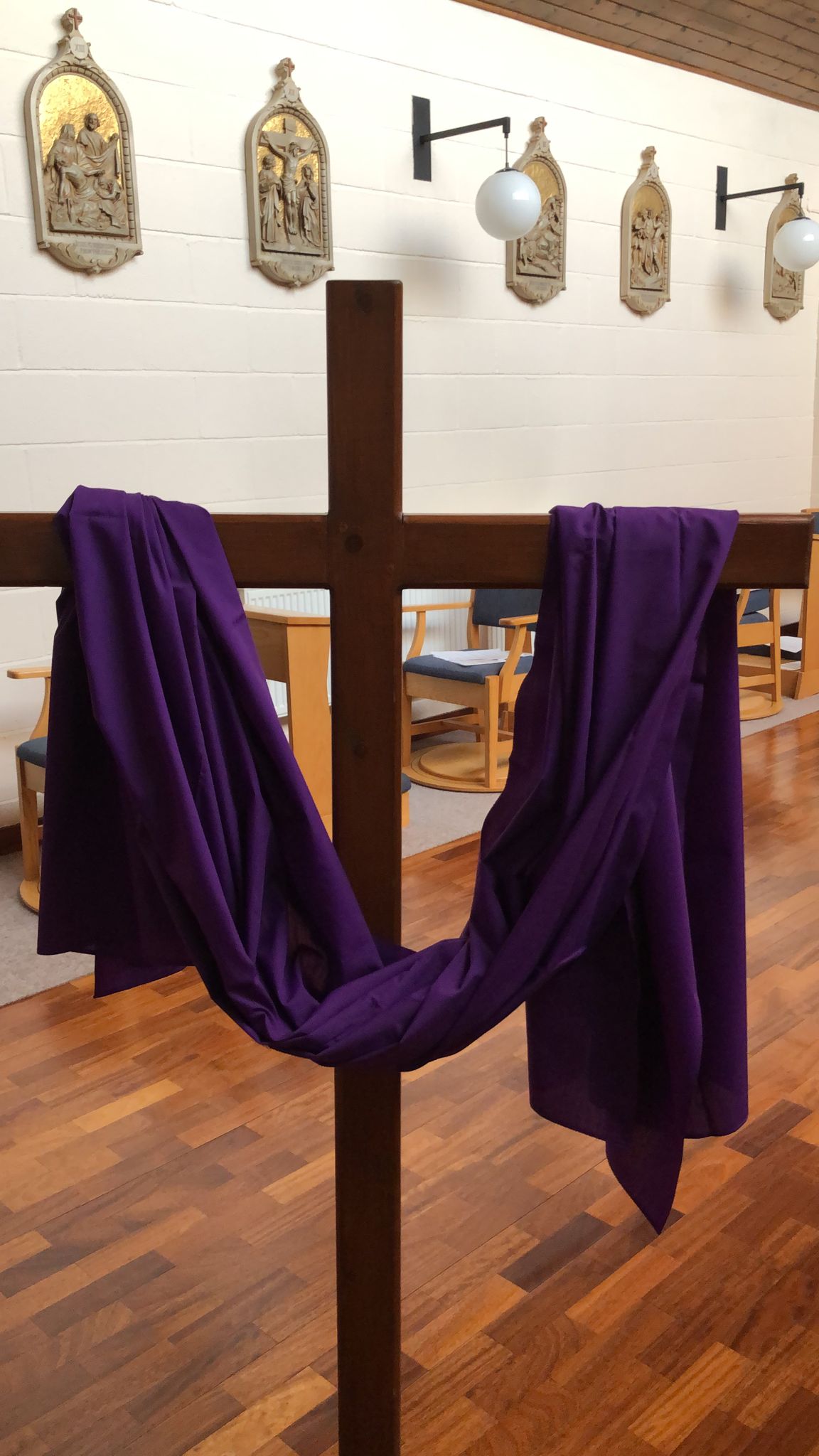 ---
Mary in Holy Week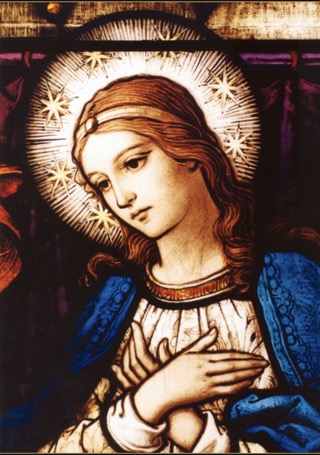 Mary is the lonely, sad, pitiful figure of Holy Week. She is the one who might almost be forgotten but is nevertheless central to the events of that week and to our understanding of it. Mary is the woman on whom God relied for our Redemption.
If we journey through the events of Holy Week, we can picture her there, though her presence is often undocumented. It is accepted by many scholars that Mary was probably present at the Passover meal that was to become the 'Last Supper'. She surely witnessed the institution of the Blessed Eucharist, the betrayal by Judas and the command to 'do this in memory of me'. Her presence was a silent presence, which was important to her Son and to the disciples of Jesus.
How dreadful it must have been for her, witnessing the trial of her Son, the mockery to which he was subjected, the humiliation of the One she knew was the Son of God. Only through the popular devotion of the Stations of the Cross do we see her meeting Jesus as he drags his Cross to Calvary. Again, she has no words, she is Silent!
---
Mother's Day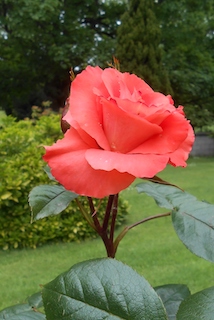 We Carmelite Sisters at Roebuck are remembering all Mothers at this time. May you have a joy filled day. All are in our prayers especially Mothers fleeing Ukraine, leaving family behind to protect others, and all Mothers throughout the world who are in pain and suffering. Our prayers are with you. May you experience God's loving presence and the closeness of Our Lady.
---
Happy St. Patrick's Day
,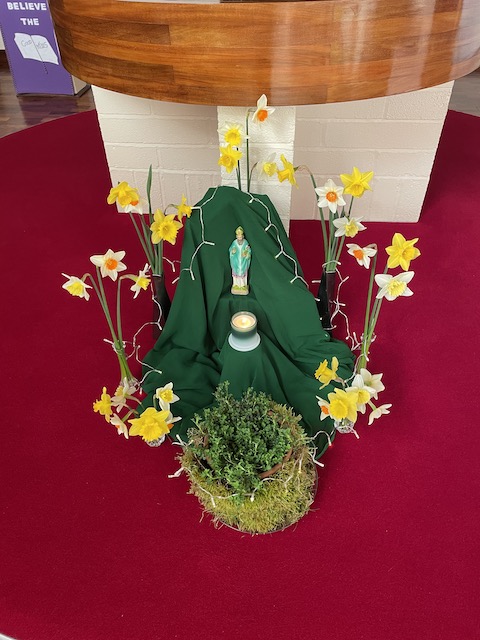 …Before dawn I used to arouse myself to prayer in snow and frost and rain… (Confessions)
Like some other notable persons in the history of Ireland, Patrick was not a native by birth nor by descent. Indeed, he had no natural motive to love the country, since he had passed his youth there as a slave in cold and hunger. In later life he wrote of himself as an exile among aliens and barbarians.
But in those years of privation, he was saved from religious indifference; he learned patience, and through prayer came to the love of God. In retrospect he understood this period was a mark of divine mercy and protection.
After his escape, he knew he was being led along a way of wider significance than his personal holiness, and that his vocation was to bring the gospel to the land of his captivity. The overriding inspiration in leaving his kin and all he held dear and come among a foreign people to make them his own, was the love of God and a grateful desire to serve the divine Master; God, he said in a striking metaphor, had found him as a stone in the mire, had raised him aloft, and set him atop the wall. He felt he must return thanks for so great a favour.
In his life Patrick had to endure disappointment, humiliations, opposition and threats; he was always aware of his inadequacy and lack of education. Yet, one who could win over rulers and maintain good relations with both sides of warring factions needs wisdom and prudence together with an ease of manner among traits of character. With a single-minded pursuit of his aim, he was ready for any toil and to bear all difficulties and hardships.
Patrick's mission reminds us that we owe our faith and most cherished ideals to the labours of others, the care and example of parents and the dedication of teachers.
Our Christian calling has not been through influence or position in society. To bring Christ to the world God can choose weak and defective agents without obvious reason for self-confidence. We may catch an echo of Paul's thought on the role of preachers in Patrick's words: "...if I did or said anything, however small, according to God's good pleasure...let this be your conclusion, and let it be so thought that it was the gift of God."
---
Saint Brigid (454-524)
Patroness of Ireland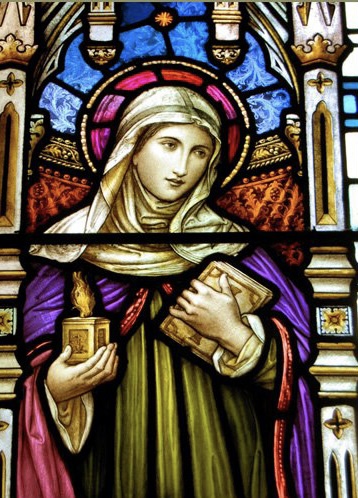 St Brigid, who is known as 'Mary of the Gael', is renowned for her hospitality, almsgiving and care of the sick. When she was young her father wished to make a very suitable marriage for her but she insisted in consecrating her virginity to God. She received the veil and spiritual formation probably from St Mel and stayed for a period under his direction in Ardagh. Others followed her example and this led her to found a monastery in Kildare with the assistance of Bishop Conleth. She was the first abbess of a religious community in Ireland and had a very special place in the Irish Church of her time. She died in 524 and her cult is widespread not only throughout Ireland but in several European lands.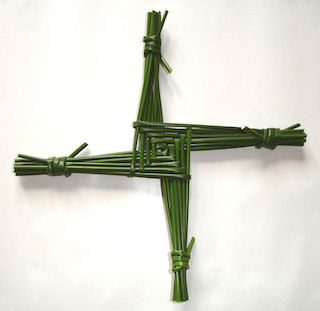 St Brigid's Cross
May the blessing of God
The blessings of Our Lady
The blessing of St Brigid
Be upon everyone
Who looks upon this Cross.
More information about St Brigid
---
A Novena Prayer to Our Lady of Mount Carmel
Welcome to the Carmelite Monastery of the Immaculate Conception
Roebuck, Dublin 14 D14 T1H9
We are a community of Carmelite Sisters called by God, to live a life of prayer for the Church and for the world.
Our Rule tells us to 'meditate day and night on the law of the Lord'. In other words to ponder the scriptures as we go about our daily tasks.

The heart of our day is the celebration of the Eucharist and we say the full Divine Office. We also spend two hours in personal prayer each day, one in the morning and one in the evening.

We hope that you enjoy your visit to our website and that you find reason to return soon.