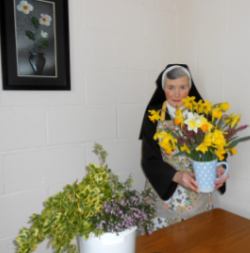 My journey to Carmel has taken a little longer than most. I have no 'Damascus' experience to share - just a personal story of a gentle call within a call.
I was ten years old when a visit from my cousins Aileen, Mai and Kitty, (all in religious life), made a lasting impression on me. I did not know it at the time, but it was then that the seed of my vocation was sown. Some seeds take longer to geminate than others! My loving home and parents provided a fertile climate in which this could happen.
My time in Secondary school, with the Ursuline Sisters, was very happy. I often dreamed of teaching Home Economics, my favourite subject, on the Missions. I really enjoyed life and an attraction to the Ursuline life grew; a way which recognised the uniqueness of each person in the school and provided an all-round education while imparting Christian values.
My dream to teach was realized when I became an Ursuline Sister. I had the joy of working with young people, firstly on the banks of the Suir then at the foot of the Brecon Beacons in Wales, and Ngong Hills in Nairobi also in the barren desert of Turkana.
One day, at the end of the first term of school, I was on retreat. During Exposition of the Blessed Sacrament the words 'Contemplative Life' came to me. For months later they kept echoing in my mind, like the words of a favourite song. What were they saying to me, was it a message?
At the end of a full day in the classroom and boarding school I felt a desire for a deeper relationship with God through prayer. Despite serving Him happily in my present life-style was God asking me to give myself totally to Him in a life of prayer?
With the guidance of a spiritual director, who introduced me to Carmel, I discerned for two years. During this time, and whenever I visited the Monastery, the attraction to the contemplative way of life became stronger.
I came for two weeks to experience the daily rhythm of monastic life lived in community. I encountered a warm, friendly, family atmosphere in the community and felt very much at home. There was a good balance between prayer, work and recreation. The beautiful landscaped grounds were inspiring.
There was a battle within my heart. I felt deeply drawn to this way of life but at the same time I did not want it. However, nothing could deaden the persistence of God's call and I came to realise that those very happy years as an Ursuline sister were really preparing me for Carmel.
I love being a Carmelite! Now I understand that being a Carmelite is the way for me to be a missionary. Our Carmelite sister St Edith Stein states that the contemplative can be everywhere in prayer. I am so blessed to be part of this community and I hope you will consider it for yourself.
Sr. Maria Therese of the Holy Spirit
Do not hesitate to contact us if you are considering a vocation to religious life at: This email address is being protected from spambots. You need JavaScript enabled to view it. or call us on WhatsApp 083 0788993 on Fridays and Saturdays from 2:30 to 4:30 P.M.
If you are not available these days you can drop us a message and we will be happy to fix another day for you.
The addresses above are only for those interested in Religious Life.
For other queries please email This email address is being protected from spambots. You need JavaScript enabled to view it. thank you.