Fifth Sunday of Easter
Again, this Sunday, Jesus introduces himself, "I am …." Last week it was "I am the Good Shepherd" and in today's Gospel reading it is "I am the Vine." This time He goes further and brings us into the allegory;" you are the branches," this is not just a very good image for us it also describes with some detail many of the aspects of the life of a disciple of the Lord.
In order for the vine to develop and grow it needs to be pruned, or in discipleship terms, it needs to repent, to turn away from old ways and be open to the power of God. This process is done by "means of the words I have spoken to you." The branch also is part of the tree, it is at home in the tree just as the true disciple is "at home in …Christ." Home is where you belong and the place to which you return all the time. That is how the disciple is rooted and grounded in Christ and constantly comes back to him for meaning, light and sustenance.
In effect, the branch does not have a life of its own but relies on the tree for everything. It reflects by its blossoms and its fruit the real mature of the tree.
Because the branch is so reliant on the nourishment of the tree, it can expect to share all the benefits that the tree has. I the case of the disciple that means, that because Jesus knows the Father intimately and draws life from the Father, so too does the disciple come into a similar relationship with God.
The final point in this allegory concerns the extension of the glory of the Father. There is the suggestion that God's work will not be complete until we extend his kingdom to every part of our world.
This brings home to us what a wonderful calling is the calling to be disciples of Christ and the equally wonderful assurance that as disciples of Christ and drawing life from him, we can ask anything of the Father and we will receive in abundance.

____________________________
COVID-19 Notice
Regretfully we have had to close our Chapel to the public. Given the small size of our Chapel it is no longer a safe space for people to attend Mass while Covid–19 is around. We have not taken the decision lightly, knowing how much it means to the people who attend Mass in the mornings. We will be keeping you all in our prayers at this worrying time and of course we will be open again as soon as it is safe to do so.
Please feel free to contact us:
carmel@roebuckcarmel.com
Prayer to St Joseph
Hail, Guardian of the Redeemer,
Spouse of the Blessed Virgin Mary.
To you God entrusted his only Son;
in you Mary placed her trust;
with you Christ became man.
Blessed Joseph, to us too,
show yourself a father
and guide us in the path of life.
Obtain for us grace, mercy, and courage,
and defend us from every evil. Amen.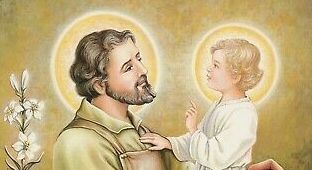 APOSTOLIC LETTER
PATRIS CORDE
OF THE HOLY FATHER FRANCIS
A working father
An aspect of Saint Joseph that has been emphasized from the time of the first social Encyclical, Pope Leo XIII's Rerum Novarum, is his relation to work. Saint Joseph was a carpenter who earned an honest living to provide for his family. From him, Jesus learned the value, the dignity and the joy of what it means to eat bread that is the fruit of one's own labour.
In our own day, when employment has once more become a burning social issue, and unemployment at times reaches record levels even in nations that for decades have enjoyed a certain degree of prosperity, there is a renewed need to appreciate the importance of dignified work, of which Saint Joseph is an exemplary patron.
Work is a means of participating in the work of salvation, an opportunity to hasten the coming of the Kingdom, to develop our talents and abilities, and to put them at the service of society and fraternal communion. It becomes an opportunity for the fulfilment not only of oneself, but also of that primary cell of society which is the family. A family without work is particularly vulnerable to difficulties, tensions, estrangement and even break-up. How can we speak of human dignity without working to ensure that everyone is able to earn a decent living?
Working persons, whatever their job may be, are cooperating with God himself, and in some way become creators of the world around us. The crisis of our time, which is economic, social, cultural and spiritual, can serve as a summons for all of us to rediscover the value, the importance and necessity of work for bringing about a new "normal" from which no one is excluded. Saint Joseph's work reminds us that God himself, in becoming man, did not disdain work. The loss of employment that affects so many of our brothers and sisters, and has increased as a result of the Covid-19 pandemic, should serve as a summons to review our priorities. Let us implore Saint Joseph the Worker to help us find ways to express our firm conviction that no young person, no person at all, no family should be without work! (Apostolic Letter Patris Corde Pope Francis)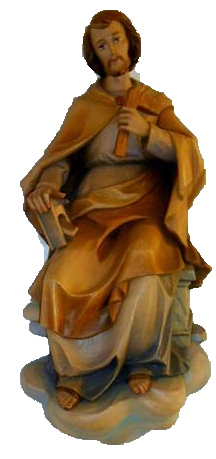 A reflection on St. Joseph for the month of April
A tender and loving father
Joseph saw Jesus grow daily "in wisdom and in years and in divine and human favour" (Lk 2:52). As the Lord had done with Israel, so Joseph did with Jesus: he taught him to walk, taking him by the hand; he was for him like a father who raises an infant to his cheeks, bending down to him and feeding him (cf. Hos 11:3-4).
In Joseph, Jesus saw the tender love of God: "As a father has compassion for his children, so the Lord has compassion for those who fear him" (Ps 103:13).
In the synagogue, during the praying of the Psalms, Joseph would surely have heard again and again that the God of Israel is a God of tender love, who is good to all, whose "compassion is over all that he has made" (Ps 145:9). >>> read more
The history of salvation is worked out "in hope against hope" (Rom 4:18), through our weaknesses. All too often, we think that God works only through our better parts, yet most of his plans are realized in and despite our frailty. Thus Saint Paul could say: "To keep me from being too elated, a thorn was given me in the flesh, a messenger of Satan to torment me, to keep me from being too elated. Three times I appealed to the Lord about this, that it would leave me, but he said to me: 'My grace is sufficient for you, for power is made perfect in weakness'" (2 Cor 12:7-9).
Since this is part of the entire economy of salvation, we must learn to look upon our weaknesses with tender mercy.
The evil one makes us see and condemn our frailty, whereas the Spirit brings it to light with tender love. Tenderness is the best way to touch the frailty within us. Pointing fingers and judging others are frequently signs of an inability to accept our own weaknesses, our own frailty. Only tender love will save us from the snares of the accuser (cf. Rev 12:10). That is why it is so important to encounter God's mercy, especially in the Sacrament of Reconciliation, where we experience his truth and tenderness. Paradoxically, the evil one can also speak the truth to us, yet he does so only to condemn us. We know that God's truth does not condemn, but instead welcomes, embraces, sustains and forgives us. That truth always presents itself to us like the merciful father in Jesus' parable (cf. Lk 15:11-32). It comes out to meet us, restores our dignity, sets us back on our feet and rejoices for us, for, as the father says: "This my son was dead and is alive again; he was lost and is found" (v. 24).
Even through Joseph's fears, God's will, his history and his plan were at work. Joseph, then, teaches us that faith in God includes believing that he can work even through our fears, our frailties and our weaknesses. He also teaches us that amid the tempests of life, we must never be afraid to let the Lord steer our course. At times, we want to be in complete control, yet God always sees the bigger picture. (Apostolic Letter Patris Corde of Pope Francis)