Palm Sunday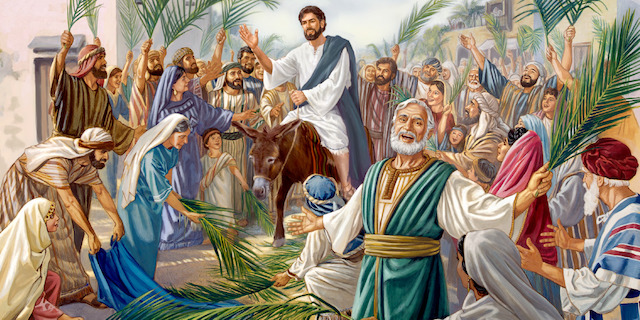 In Holy Week each year we read two accounts of the Passion of Jesus. These are not different stories but they are accounts of the Passion from two different perspectives - given to us by the Holy Spirit to satisfy, perhaps, different spiritual needs of the same Christian community.
The Passion according to John, which is always read on Good Friday, emphasises the suffering and the Salvific work of Jesus. It prompts us to look at the cross and consider what Jesus has done.
The Passion read on Palm Sunday is always from one of the Synoptic Gospels and it helps us to identify with the events of Holy Week, identify with Jesus.
This year, the year of Luke, we read from his gospel. Luke is the portrait painter, the one who portrays Jesus as a real human with live and real emotions.
It is helpful to note the different relationships of Jesus in this narrative. Pope Francis calls us to be tender to one another and surely this account of the Passion story speaks of that tenderness.
Imagine the feelings of Jesus as He speaks and experiences the following;
"I have eagerly desired to eat this Passover with you"
"You are those who have stood by me."
"I pray that your Faith may not fail."
"Judas, is it with a kiss that you betray me?"
The Lord turned and looked straight at Peter
Pilate; "I have not found this man guilty of any of your charges"
"Father, forgive them for they do not know what they are doing".
Thief; "Jesus, remember me when you come into your Kingdom". – (This is the only time anyone addressed Him as 'Jesus'!
"Today you will be with me in Paradise"
"Father, into your hands I commend my spirit". Entrusting Himself confidently into the Father's hands.