Christmas Night
Isaiah (9:1-7)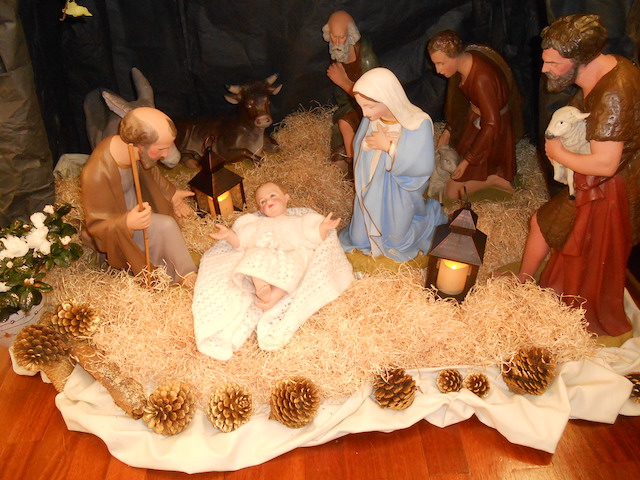 "The people that walked in darkness have seen a great light"
This phrase from Isiah is so familiar to us that it sometimes flips off our tongues without the attention it deserves. Over the last few days, it seems that every text, letter, and message that I read has the quote from Isaiah. I believe that being alert during Advent always reveals something of the 'coming of the Lord'.
The 1st reading of our Eucharist tonight recounts Isaiah's prophesy of a joyful reversal after the threats of an Assyrian invasion in Jerusalem. The Assyrian armies had plundered the northern kingdom of Israel and seemed certain to repeat this invasion on Judah and Jerusalem. Miraculously they turned away. Isaiah foretells that a son of David would rise up among the people. He would have great qualities; "Wonder-Counsellor, Mighty-God, Everlasting-Father, Prince-of-Peace". The people would be "filled with the fullness of God" (Ephesians 3:19)
We cannot help but think of our 'Darkness' in these days. Covid, Sickness, Isolation, Fear, Depression, Loneliness have changed our world. We have had to stop! We have had to think of different ways of doing things. Our busyness, our pre-occupations, our preconceived and dogged positions on everything have been turned upside-down.
Our very complicated lives always stand in contrast to the simplicity of this night – the simplicity of the CRIB. I suppose the essential beauty of the crib is its simplicity.
Tonight, we are called to Stop and to Think and to Contemplate and perhaps, to Dream.
The simple woman, who gives birth, is our model of contemplation -simple childlike wondering at what this moment means.
The simple father who stands by the birth is a Dreamer, who discerns the plan of? God through the promptings of his dreams. The simple stable of Bethlehem is 'the natural world'.
The contemplative disciple is the one who is alert and who dares to dream of nature as being the Presence of God. I believe that contemplation and dreaming open our eyes and ears, and when we are caught up in the simplicity of nature, we notice the Presence of God.
Rembrandt (17th ) Rest on the Flight into Egypt
The landscape is of unremitting darkness. The Holy Family have stopped for the night. They have set a fire in a sheltered spot. Joseph is asleep. The Child is playing, probably with the very patient donkey.
But the light of the fire draws us to the presence of the Child Jesus. This scene is, in the midst of darkness, all warmth, comfort, safety and light.
May it be an image of what this Christmas of 2021 is for us?
We, who have walked in darkness, are blessed, to night, to have seen a great light.