Our Lady of Mount Carmel (16th July 2021)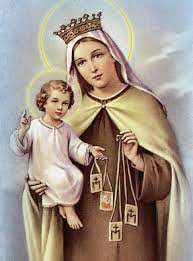 Carmelites originated and took their name from mountain Carmel in Israel. The great prophet Elijah defended the true faith from Mount Carmel and it was there that he slayed the false prophets of Baal. It was understood to be a holy place, a place of pilgrimage, and in the 12th century pilgrims came again and stayed as faithful followers of Elijah. They built a chapel there dedicated to Mary the Mother of God and soon afterwards they called themselves 'Brothers of Mary of Mount Carmel'.
It was a fitting place to form such a community. Mountains are the places where God speaks, where people become aware of God, where people get to know God.
Moses climbed Mount Sinai in order to encounter God and learn what God required of people who wished to be faithful. Abraham committed himself unreservedly to God on the mountain before God promised to make him our father in Faith. Jesus himself went up on a mountain when he wanted to teach his disciples the important principles of Christian living. He took his close disciples up the mountain so that he could be revealed to them as the beloved Son of the Father. And, of course it was on the mountain of Calvary that Jesus died for our salvation.
We can only imagine the early 'Brothers' seeking to know God and finding inspiration in the one who knows God better than any other, Mary, the Mother of God. We are told that these early Carmelites wanted to dedicate themselves to Prayer and Contemplation. Prayer for them was the way they related to God and Contemplation, their way of getting lost in the wonder of God.
Contemplation leads us to notice the Presence of God and not just at the specific times of prayer but even amidst the 'pots and pans' of everyday, normal life.
The presence of God is more noticeable on a mountain or in a desert and the early Carmelites must surely have imagined Mary's sense of God's presence; what that presence was like in Nazareth, the home and the place of learning for Jesus. Nazareth was the 'place of calling' where God whispered what He wanted her to do.
As Mary accompanied Jesus on his Ministry in Galilee, she noticed in him, the presence of God healing and teaching as a reality. And, when it came to the time of Calvary, Mary suffered with her Son, a suffering that was real and painful, a reminder of the sin of the world but also of how God made-man is ever present and ever saving sinners.
On the Holy Mountain of Carmel, those early Carmelites grew in the presence of God by identifying with Mary, putting themselves into her shoes, her mind and heart and finding their calling, their work for the kingdom of God and the realisation that all of us have a part in the salvation of sinners and redemption of the World.
O Mary, Lady of Mount Carmel, let us share your consciousness of Christ, Our Lord and God. Let us be aware of Him in our hearts, our homes and our world. May our souls also Glorify the Lord. for Holy indeed is His Presence among us.