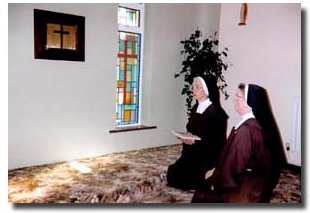 Therese, better known a the Little Flower was and is, a flesh and blood woman of her times and ours.
Growing up in a family with deepfaith and a strong prayer life gave her a great love for God. She was loved tenderly but never spoiled. Gentle discipline encouraged and trained her for life. She felt drawn to serve God in the Carmelite way of life.


At fifteen, mature beyond her years, her passionate love of God and her desire to serve Him in Religious life spurned her on to overcome the obstacles to enter at such a young age. Her longing was to pray for all who are in need.


In Carmel Therese didn't look for any extra prayers or penances. Instead she did everything that was asked of her, well. It was in the little everyday things that Therese found her sanctification. That is why she is such a flesh and blood saint for today's world. She knew the everyday ups and downs, the pain and sorrow of everyday life and it was with this that she worked for the salvation of souls.
Therese speaks to us today in our everyday lives, asking us to have the same trust and confidence in God's love for us. Her Little Way is of simplicity, love and childlike trust and abandonment to God's merciful love.
When she was dying, aged only twenty four, she was happy that her mission was only beginning. She would spend her heaven working – doing good on earth, letting fall her "roses" – graces from God on all who invoke her, and making God loved as she herself loved Him.
Carmelites today continue her mission.
Like St Therese Carmelites today know that Carmel is a matter of the heart.
Our mission is to hold your concerns and worries in our hearts, bringing them before the living God. The pain and joys of the world are ours.
Many people visit our Monasteries every day, either in person, by letter or e-mail, requesting our prayers for various needs. There is nothing that doesn't come to Carmel. Unemployment, marriage breakup, illness, pregnancy, death, violence, family matters, exam students, addiction, in fact all of human life.
We carry your intentions in our hearts as we go about our daily round of prayer, work and recreation. We invite you to join us in prayer for vocations that the good work of St Therese may continue in Roebuck and across the world.
If you feel you may have a vocation to Carmel please contact us at info [at] roebuckcarmel.com