Second Sunday of Easter
Feast of Divine Mercy
John 20:19-31
The hands of Jesus tell a greater story -he died for us. If we are indeed his body in this time and place, then our wounds are his wounds. Those who believe without seeing are blessed. He will reveal himself -often it seems-in our own wounds and the wounds of others.
On this feast of Divine Mercy Pope Frances quotes from St Faustina's Diary "Jesus said to Saint Faustina :I am love and mercy itself; there is no human misery that could measure up to my mercy" At one time, the Saint with satisfaction, told Jesus that she had offered him all of her life and all that she had. But Jesus' answer stunned her:" You have not offered me the thing that is truly yours" What had that holy nun kept for herself?" Jesus said to her with kindness:" My daughter. Give me your failings." We too can ask ourselves:" Have I given my failings to the Lord? Have I let him see me fall so that he can raise me up?" Or is there something I still keep inside me.? A sin, a regret from the past, a wound that I have inside, a grudge against someone, an idea about a particular person…The Lord waits for us to offer him our failings so that he can help us experience his mercy.
Thomas was so close to Jesus he may have felt very keenly the death of Jesus and separated himself from the others to be more on his own to grieve his loss. So when he heard from the others that they had seen the Lord, Thomas goes into a demanding mode "Unless I can see the holes that the nails made in his hands and can put my finger into the holes they made, and unless I can put my hand into his side, I refuse to believe." Grief is most painful to-day with Covid restrictions. It takes many forms. There can be disbelief, numbness, anger and great difficulty in believing that the person is dead. Thomas final statement brings things to a head "I refuse to believe."
Eight days later Jesus comes again and Thomas is with them. Even though the doors were locked Jesus came. Even though they were afraid Jesus came. Even though the openness was not there …
Jesus stood among them…he was not separate from them. Thomas is singled out "Put your finger here, look here are my hands." There is a mutual invitation. Put your finger…...here are my hands. "Give me your hand…put it into my side. Do not be unbelieving any more but believe." Then we have the response that Thomas is most remembered for "My Lord and my God. "
Easter Sunday
He must rise from the dead …
(Gospel of St. John 20 and 21)
The Resurrection is a time of joy because all the promises and prophecies, all the hopes and expectations of the Old Testament are fulfilled.
It is a time of great rejoicing because, by his rising from the dead, Jesus gives meaning to our life of exile. It ends our alienation from God and promises us a life of genuine happiness in a perfect union with God our Father.
We rejoice because we realise that we are not walking the pathway of life alone. Jesus is alive. He is with us personally and individually more fully, more completely than ever before in human history.
We are filled with joy because Jesus is with us assisting us, encouraging us, strengthening us for every task in life.
We are joyous and filled with genuine Christian Joy because we know that Jesus suffered all the pain, the sorrow, the hardships which are our lot in life. He is with us as our healer, our redeemer, our saviour.
This is precisely why Jesus revealed the Good News to us, so that we can be a joyous people. He said: "All this I tell you that my joy may be yours and your joy be complete" (Jn 15:11)
The Annunciation of the Lord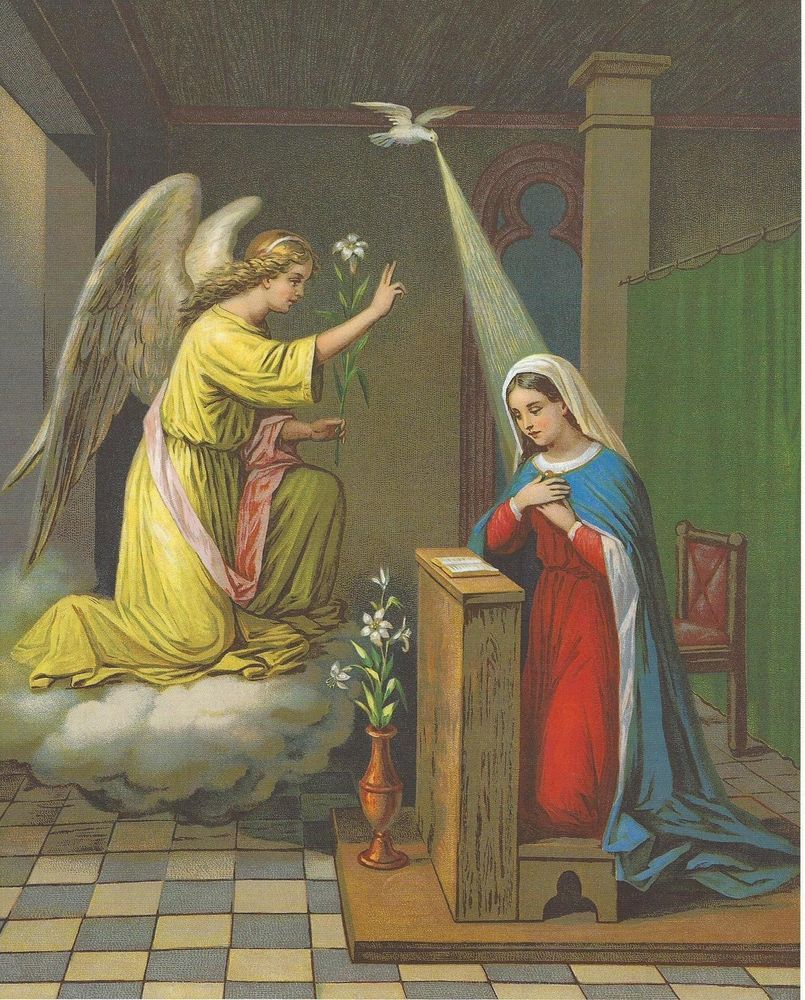 … you are to conceive and bear a son … (Gospel of St. Luke 1:26-38)
"Mary, speak to us, because we do not know how to speak about you; speak to us, then, yourself. We sense that the mystery of the Annunciation is related to that of the cross. One reflects the other; one is rooted in the other. At the foot of the cross you experienced your Son's death and the Father's infinite love for humankind. Make us comprehend the mysterious roots of this love and penetrate into your 'Yes' to the will of the Father, from whom all originates, in whom all recurs and to whom all returns".
SAINT JOSEPH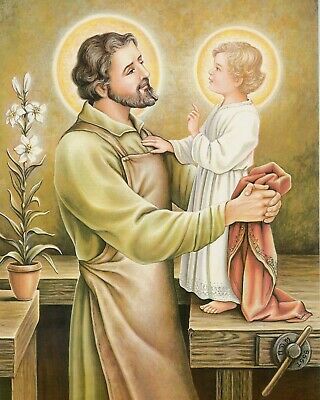 - A beloved father -
The greatness of Saint Joseph is that he was the spouse of Mary and the father of Jesus. In this way, he placed himself, in the words of Saint John Chrysostom, "at the service of the entire plan of salvation".
Saint Paul VI pointed out that Joseph concretely expressed his fatherhood "by making his life a sacrificial service to the mystery of the incarnation and its redemptive purpose. He employed his legal authority over the Holy Family to devote himself completely to them in his life and work. He turned his human vocation to domestic love into a superhuman oblation of himself, his heart and all his abilities, a love placed at the service of the Messiah who was growing to maturity in his home".
Thanks to his role in salvation history, Saint Joseph has always been venerated as a father by the Christian people. This is shown by the countless churches dedicated to him worldwide, the numerous religious Institutes, Confraternities and ecclesial groups inspired by his spirituality and bearing his name, and the many traditional expressions of piety in his honour. Innumerable holy men and women were passionately devoted to him. Among them was Teresa of Avila, who chose him as her advocate and intercessor, had frequent recourse to him and received whatever graces she asked of him. Encouraged by her own experience, Teresa persuaded others to cultivate devotion to Joseph.
Every prayer book contains prayers to Saint Joseph. Special prayers are offered to him each Wednesday and especially during the month of March, which is traditionally dedicated to him.
Popular trust in Saint Joseph is seen in the expression "Go to Joseph", which evokes the famine in Egypt, when the Egyptians begged Pharaoh for bread. He in turn replied: "Go to Joseph; what he says to you, do" (Gen 41:55). Pharaoh was referring to Joseph the son of Jacob, who was sold into slavery because of the jealousy of his brothers (cf. Gen 37:11-28) and who – according to the biblical account – subsequently became viceroy of Egypt (cf. Gen 41:41-44).
As a descendant of David (cf. Mt 1:16-20), from whose stock Jesus was to spring according to the promise made to David by the prophet Nathan (cf. 2 Sam 7), and as the spouse of Mary of Nazareth, Saint Joseph stands at the crossroads between the Old and New Testaments. ( Letter Patris Corde byPope Francis)
Happy St. Patrick's Day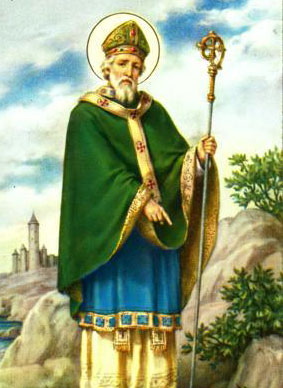 …Before dawn I used to arouse myself to prayer in snow and frost and rain… (Confessions)
Like some other notable persons in the history of Ireland, Patrick was not a native by birth nor by descent. Indeed, he had no natural motive to love the country, since he had passed his youth there as a slave in cold and hunger. In later life he wrote of himself as an exile among aliens and barbarians.
But in those years of privation, he was saved from religious indifference; he learned patience, and through prayer came to the love of God. In retrospect he understood this period was a mark of divine mercy and protection.
After his escape, he knew he was being led along a way of wider significance than his personal holiness, and that his vocation was to bring the gospel to the land of his captivity. The overriding inspiration in leaving his kin and all he held dear and come among a foreign people to make them his own, was the love of God and a grateful desire to serve the divine Master; God, he said in a striking metaphor, had found him as a stone in the mire, had raised him aloft, and set him atop the wall. He felt he must return thanks for so great a favour.
In his life Patrick had to endure disappointment, humiliations, opposition and threats; he was always aware of his inadequacy and lack of education. Yet, one who could win over rulers and maintain good relations with both sides of warring factions needs wisdom and prudence together with an ease of manner among traits of character. With a single-minded pursuit of his aim, he was ready for any toil and to bear all difficulties and hardships.
Patrick's mission reminds us that we owe our faith and most cherished ideals to the labours of others, the care and example of parents and the dedication of teachers.
Our Christian calling has not been through influence or position in society. To bring Christ to the world God can choose weak and defective agents without obvious reason for self-confidence. We may catch an echo of Paul's thought on the role of preachers in Patrick's words: "...if I did or said anything, however small, according to God's good pleasure...let this be your conclusion, and let it be so thought that it was the gift of God."
---