Feast of Christ the King
(John 18:33-37)

What a contrast there is between the two men in today's Gospel!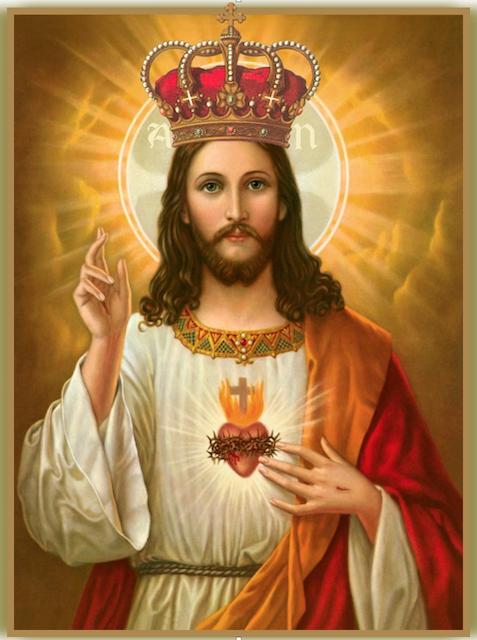 Pilate is there in all his glory, with the trappings of power, with the magnificent robes, with the impressive guards around him and a powerful army in the barracks awaiting his command. Pilate had risen to political power from being a soldier. He must have been very aware of how powerful he really was. And indeed he had become a real 'politician', as we can discern from the way he questions Jesus-neither taking personal responsibility for his actions nor denying the accusations brought against Jesus.
Jesus cuts a very different figure. Perhaps we have seen artists' impressions of the scene: Jesus is dressed in simple, rough and colourless clothes: He is looking haggard and drawn having spent a sleepless night in the cold basement of Caiphas's house: he is handcuffed with crudely knotted rope: his supporters are crouched in hiding: and his weapons are not tangible or visible.
But, we may ask, which of these two men is free? Or, who has the real power? Which of them would we admire, trust, follow? Granted, we operate and make our choices with a great deal of 'hindsight' but there is something genuine and impressive about the modesty with which Jesus presents himself and answers Pilate's questions. The crown which He wanted had nothing to do with personal honour; it was to glorify the Father that he came. The throne that he sought did not set him apart from or above the ordinary people; he delighted in being among the
poor and suffering. His army of followers were not forcibly conscripted; he lovingly drew people to himself by his kindness and compassion. The words that he spoke were not oppressive commands; his words have Life, Direction and Truth.
The purpose of Jesus's coming into the world was to bear witness to the Truth. "The Truth will set you free!". If we hear and accept the Truth spoken by Jesus, then we will indeed receive the Freedom of the Kingdom of the same Jesus Christ, our Universal King.
Corpus Christi
Mark 14:12-16.22-26
Some time ago we had the extraordinary event of the visit to Ireland of the Relics of St Therese of Lisieux. It will long be remembered for the outpouring of affection for one of the Churches favourite saints. There was a sense of awe, of reverence and appreciation which gripped the Irish Church; there was a family like welcome for one who was known by so many; it was like as if a favoured daughter had returned.
What stays in my memory most of all is the constant stream of devotees passing the reliquary for over twenty-four hours. There were old people, young people, sick and crippled people; there were religious, priests. Young men in sports gear returning from a social function in the 'early hours'. They were filled with awe. They bowed, they prayed, they reverenced and kissed the reliquary. This saint had touched their lives and how they appreciated her 'presence' among them. She was here to pray with us.
The presence of Jesus in the sacrament of the altar has become so familiar to all of us. He is present to us, not as a relic, but in reality. His promise was that he would be with us 'all days until the end of time' and within our tabernacles He remains, silent but real, to be seen, to be touched and to touch our hearts and our souls. The 'Corpus Christi' processions of old were a startling reminder to us of how Christ walks among us and shares our journey. We honoured Him with flowers, incense, music and flags. Our honouring of the Blessed Sacrament may not be so spectacular on an everyday basis but we need to remind ourselves that He is here to be adored.
St. Teresa's walking stick: By Land By Sea By Air
St Mark's gospel account tells us that Jesus sent out the Twelve and instructed them to take nothing for the journey except a staff – no bread, no haversack, no coppers for their purses. They were to wear sandals, but he added, "Do not take a spare tunic." It was in this spirit that Brother Noel O'Connor set out on Friday to collect St. Teresa's walking stick (staff). Sandals on his feet, no spare tunic, no haversack, but with a day return ticket for Spain.
Read more: St. Teresa's walking stick: By Land By Sea By Air
The visit of Saints Louis, Zelie and Saint Therese (Little Flower)
Just over a year ago we started to prepare for the World Meeting of Families. The Icon specially written for the Meeting began it's journey around Ireland and visited many Churches in every diocese. Wherever the Icon went there were ceremonies and services held to celebrate and pray for the families of the parish and the wider community. People left their petitions for their families and friends with the Icon. These petitions were then sent to different contemplative houses of nuns so that they would keep these intentions in their prayers until the World Meeting of Families. We placed the intentions assigned to us under the altar and remembered them in our prayers at every Mass and whenever we came to the Chapel to pray. At Evening Prayer we included them in the intercessions and recited the official prayer for the World Meeting of Families.
As we prepared to attend the Meeting with all the Carmelite family, Priests, Brothers, Sisters and Lay Carmelites we received news that the relics of Sts. Louis and Zelie with their daughter St Therese (Little Flower) would also be attending! This certainly put us on high alert! They would also be touring Ireland both before and after the World Meeting of Families. The itinerary was worked out and dates assigned as to when they would visit each Carmelite house and Cathedral throughout the country. Our allotted time was on 21st August between 10.00am and 2.00pm.
It was preparation time - the reliquary of St Therese was very wide and high and posed problems for our narrow doors. One door on the corridor had to be taken down and the relics had to be taken around the back of the house to enter by the wider door! To mark the solemn moment of their arrival our visiting Sister from the Holy Land, played the African drum and led the procession.
Of course all the preparation was worth it, we were privileged to have the honour of having the Relics in our small chapel. So many people came (the chapel as full for the four hours) to venerate them and pray for their intentions. Some wrote their intentions and left them in the basket provided. They are now under the altar and we pray for them daily.
All too soon the time for departure came and they left for the R.D.S and the official opening Ceremony for the World Meeting of Families. This opening Liturgy was a celebration of Evening Prayer and was entitled Le Cheile le Chriost (together with Christ) and was led by Archbishop Diarmuid Martin. It set the tone for the week and brought us a personal message from Pope Francis.
The Meeting – Pastoral Congress took place over the following three days. It offered a programme of workshops and discussions as well as fun and prayerful activities for individuals and families. We saw many families from all over the world and Ireland gathered to celebrate family life. There was a wonderful atmosphere of joy as families met and shared and supported each other.
Then came Croke Park and the festival of families and the arrival of Pope Francis. Words don't describe…. The grand finale was Phoenix Park. It was very moving to hear Pope Francis take the sins of abuse into the Holy Sacrifice of the Mass and to beg pardon and healing. We pray daily for healing for those hurt by abuse.
While the visit of Pope Francis was short, families will have a lot to remember from the Congress. The Relics continue their journey until the final farewell in Whitefriar St. on Saturday 8th September at 3.00pm.